Mint Art Co's DIY Wallpaper Collections can transform any room from drab to fab – with no messy paste necessary. All our wallpapers are easy to remove as well, so no need to stress about changing your mind in a few years and wanting to refresh your space… You can choose new wallpaper and do it all again 😉
Our DIY wallpaper collections come to you ready to transform your walls in handy roll lengths from 2.5m up to 3.1m. Should you require longer rolls for those super tall ceilings please get in touch with us and we will happily custom quote for you.
Our Peel and Stick Wallpaper is our most popular for home installers, however our Spray and Up Wallpaper is also an easy alternative. Our Wet and Up is usually utilised by more commercial spaces.
*Please note that images are for illustration purposes only and although all care is taken, with some prints the scale may differ slightly to shown.
Whoop Whoop 🙌🏼 This pattern is actually available in these eight colours: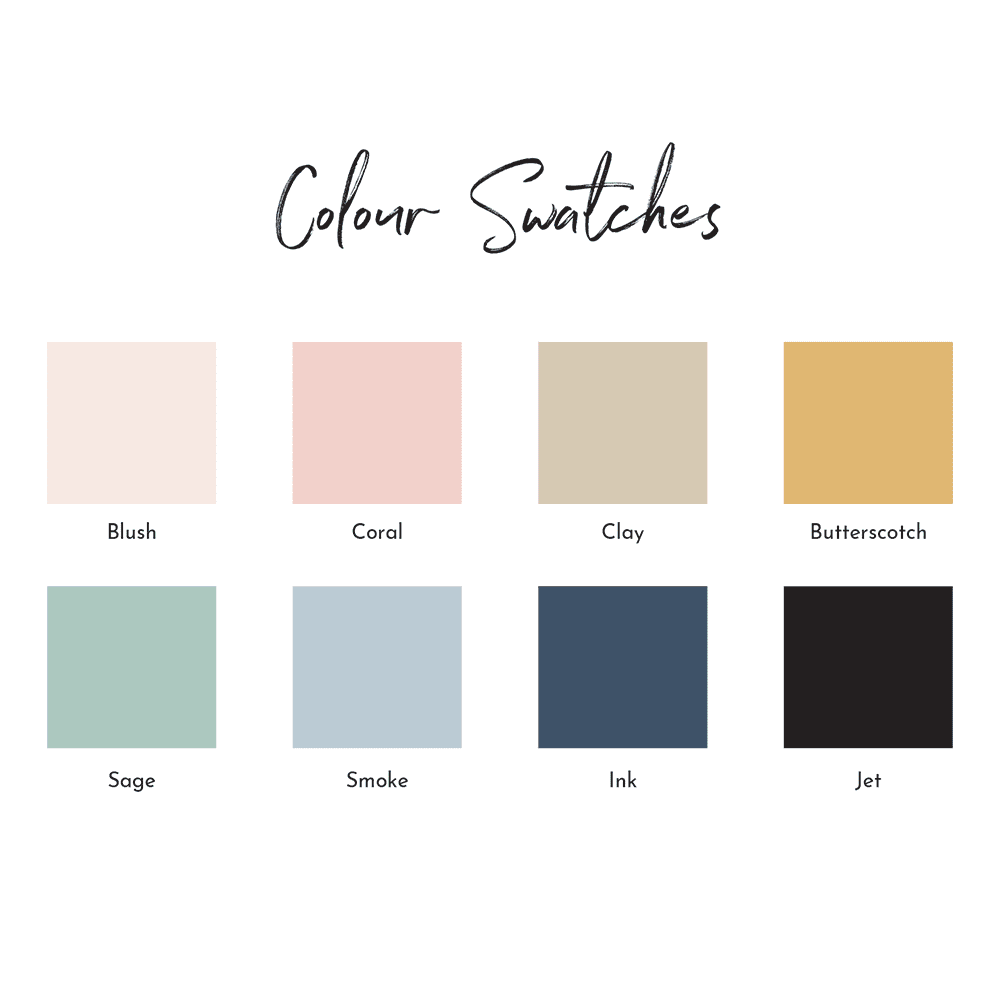 *Patterns above not to scale
How many rolls do you need?
Once you know what media you're after divide the width of your room by the width of the wallpaper roll to calculate the number of rolls you require. Then choose the appropriate length for your ceiling height. Note you will need to round up to the next whole number. NB: Our rolls come with a 50mm pattern overlap.
Still unsure? We're here to help. Just send the height and width measurements of the wall you'd like to beautify to office@innovateinteriors.com.au. We will get back to you ASAP with our estimation.
Roll widths:
Fabric Texture (Peel and Stick) = 620mm
Silk Paper Texture (Spray and Up) = 540mm
Commercial Grade Smooth (Wet and Up) = 620mm
Wallpaper Media Information
Fabric Texture – (Peel and Stick)
Reusable, Repositionable and Removable! Non-Toxic and Eco-Friendly Our peel and stick wallpaper is made of 100% polyester fabric. It can be removed and reused without damaging walls or surfaces. Install for a day or a decade. The fabric material is Class A or 1 fire rated, non-toxic, green, and phthalates free.  It is 99% block out – Great for overlapping panels, hiding dirty marks, scuffs and bright coloured walls.
This wallpaper solves the hassles of traditional wallpaper installations with an easy to apply, matte white self-adhesive film. Ideal for the non-professional, DIY installer with no experience or tools required. Better yet, when you are done with that graphic it can be removed with minimal fuss and cleaning. Great for partial and full wall graphics.
APPLICATIONS
Home interiors decoration – including rental accommodation | Schools and office interiors | Retail and Point of Sale | Restaurants and Cafes.
Silk Paper Texture – (Spray and Up)
A beautiful textured wallpaper with a unique look. Quick, easy and clean. Eliminates the need for conventional wallcover paste. Simply spray the wall with water, then apply the wide format media directly.
APPLICATIONS
Home Interiors Decoration – including Rental Accommodation | Schools and Office Interiors | Retail and Point Of Sale | Restaurants and Cafes.
Commercial Grade Smooth – (Wet and Up)
This smooth wallpaper is pre-pasted. Simply activate the glue with water and install. There's no need to handle separate glue or adhesives and no glue waste to deal with. You get strong adhesion, yet with this strippable wall paper, removal is easy and clean.
HP PVC-free Wall Paper printed with water-based HP Latex Inks produces odourless prints that meet GREENGUARD criteria for low emitting products. Flame retardant class A approved fire certification. Up to 20 years display permanence indoors, away from direct sun. Mould and mildew resistant. PVC-free alternative with a true, ultra-smooth wall paper finish.
APPLICATIONS
Offices and Retail | Schools and child care centres | Government Departments | Home interiors decoration